Dear Ones,
This is my last book. There are a number of reasons why. One is I'm moving on to other things. another is my eyes and brain can no longer take the strain. As much as I appreciate access technology and the ways Dan has continued to set up my computer to adapt to each new loss of vision, it still takes many times longer to write a book than it used to, and it can be maddeningly frustrating. After thirty-eight years and close to fifty books passing into print through my brain and eyes, I'm done. It's time to return to music and possibly painting while I can still see what I'm doing.
For this last book, I finally did what Dan has been bugging me for years to do. I'm sharing what I've learned in forty-four years of walking with Jesus. I've had wonderful mentors who have experienced the divine supernatural in their lives and taught me how to recognize it in my own. Their stories are also in this book.
I have to admit to you that this is the hardest book I've ever written. Sometimes it's difficult to articulate concepts that are clear as light when I hear them in my heart, but feel like sawdust as soon as I put my fingers on the keys. Many end up in pieces on the cutting room floor. I also had so many wonderful real-life accounts I wanted to include, but the book would have been 800 pages. Still, it's hard to have to murder your darlings. But the most difficult part was holding in my head things I wanted in the book. "Oh yeah, I meant to tell about that. Oh yeah, I forgot about that." All day long and sometimes in the middle of the night for almost two years. How do you organize so many thoughts and experiences into a coherent whole? Organization is not my  gift. My filing system is piles. And there are so many pieces to this book. It's like a mosaic or a view of God-life through the 180 degree compound eyes of a butterfly. So I'd remember something I wanted to add, but not remember in which chapter I'd put the subject.
Until I began writing this letter to you, I didn't know I would miss writing books. I was reveling in the relief of not having to juggle things in my head or fight with my computer. But I found some tears as I realized it's the end of an era half a lifetime long. And I worry that, in this last book, this pouring out of my heart, I haven't said what I needed to. Will the ideas be clear enough? Most of all, will readers finish the last page and know how to find the fingerprints of God and hear His words for them? That is the most supernatural part of the Christian life. Almighty God wants to be involved with everyone personally. And when He is invited to do so, things happen that bring light into darkness, order into chaos, meaning and healing into suffering, and mighty power into prayers that can even raise the dead.
But seasons turn and callings change, so this is the last book. I send it out to have a life of its own, with the hope it will bring strength, vision, and the breath of God into the innermost being of every person who reads it.
Blessings upon you, dear one,
Carolyn & Hedy (she's in the book too)
—
You can find Mighty in paperback or kindle on Amazon.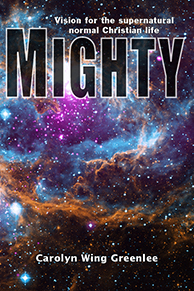 $14.95 paperback
$7.95 kindle
$0.00 kindle unlimited