Ingenuity, Innovation, and No Dead Ends:
Microcurrent, UHF, Radio Paging, and the Pomona Drags
the inventions and discoveries of Dr. Thomas W. Wing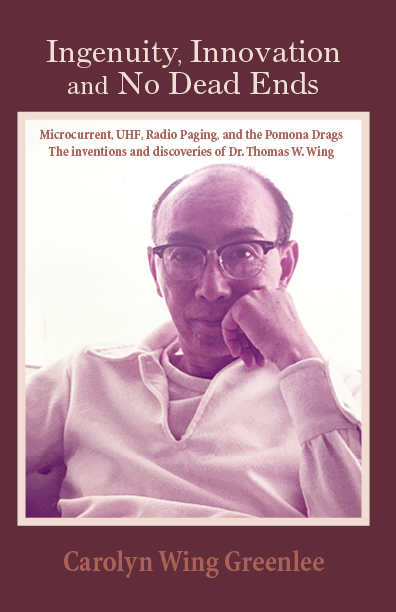 The book my dad wanted me to write is now in print, available even before his birthday, July 22. It was my heart's desire to have it ready for that special day, and Dan Worley made it happen, including tweaking some old photographs few have seen before.
I'm thrilled because this is a very special book for me, one that brings together a concentrated look at the ways my dad's most astonishing inventions and discoveries came about, and also how integral my mom was in the process. You get to hear both of them talk about what it was like to live those days, and I added my own perspective on my participation in the pioneering efforts and what my parents' adventure looked like from the inside.
As the title says, this book covers four significant areas: my dad's efforts to prove the value of UHF (Ultra High Frequencies) in emergency communications, the invention of the precursor to the doctor beeper (that led eventually to the cell phone), the popularization of drag racing, and the invention of microcurrent and all the thrills, chills, spills, and ills that came with it, as well as healing that was never possible before.
I had fun working on this book. Since it contains my mom's and dad's voices telling how it was to live those vibrant, hazardous years, it was like sitting in their family room listening to them tell stories again. Of course, when you're in it, you have no perspective–you're just running before the wolves. Many years later I can look back and realize what a privilege it was to participate in the development of microcurrent, meet such visionaries as Dr. George J. Goodheart, innovators Dr. Robert Peschek, Dr. Hadden Pace, Doug Casey, Deborah Powell, Dr. Dennis Greenlee, Dr. Richard Yennie and Pat Khan, and many others who advanced the healing arts with their gifts and wisdom. Most of all, I am grateful for the blessing of sharing life with two remarkable human beings who lived large and made me part of their legacy.
Click here to purchase it on Amazon.
Blessings,
Carolyn