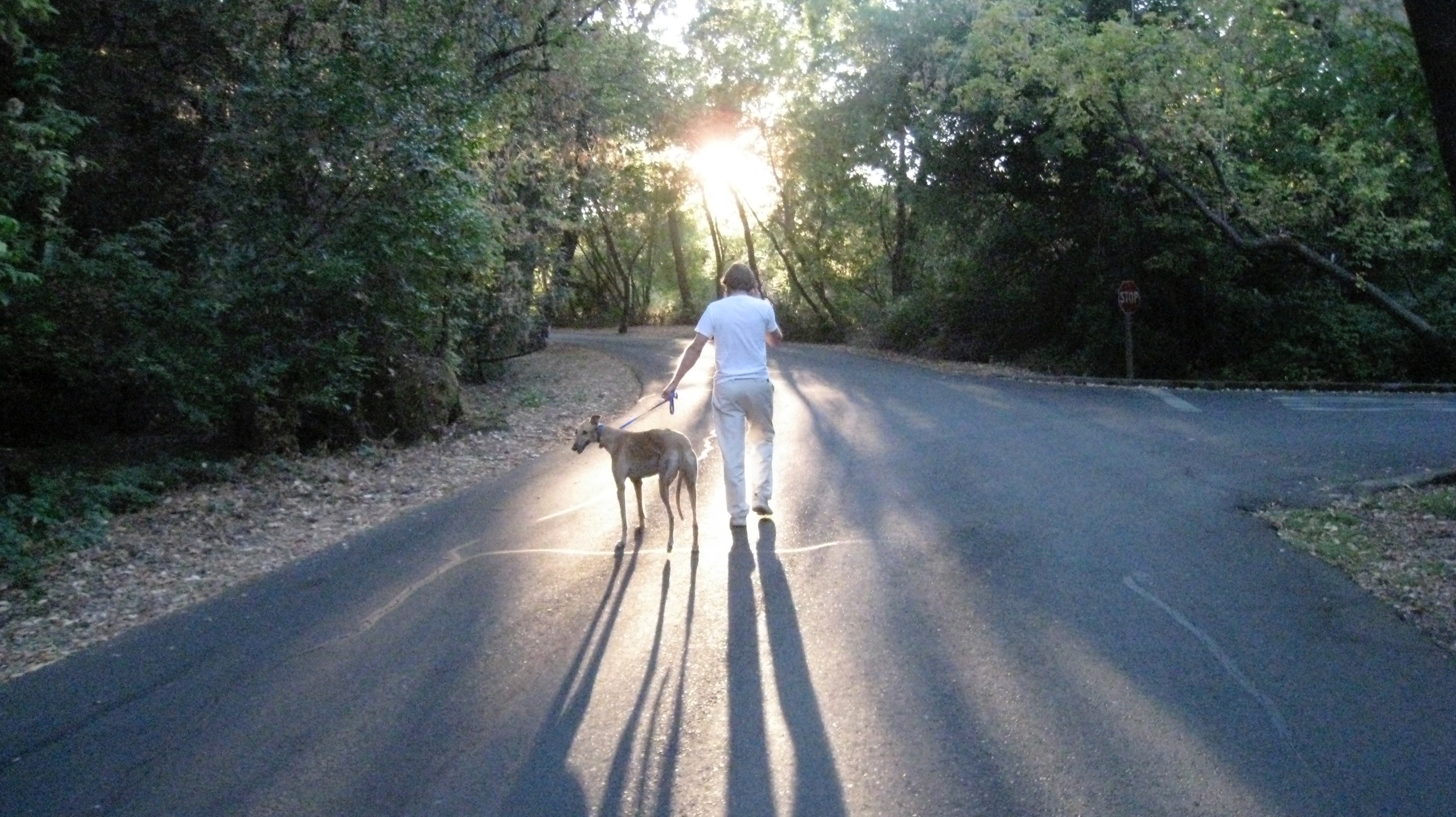 Dear Friends of Dan and Sonny,
Today, Sonny slipped peacefully into sleep in the arms of his loving owner, Dan Worley. His favorite auntie, our neighbor Cathy Silva, was there, and so was I. He was almost 11, pretty old for an ex-racer, and he had been experiencing increasing discomfort, especially in the last couple of weeks. Dr. Deborah Salley was seeing him, and Sonny was sometimes almost normal, especially at Cathy's house, which Dan called Doggy Disneyland because Sonny had such a great time there. As God would have it, the last week of Sonny's life, Cathy was home a lot, so Sonny went once or twice a day, and Dan took him other places he enjoyed. Yesterday, they went for a long walk around Clearlake State Park, glorious in fall colors. I took the photo there several years ago. It was one of his favorite spots, crunching through the fallen leaves in the slight breeze and the good smells.
Dan had a feeling it would be today, but there's always doubt and second-guessing, so when Sonny stood up from his bed and his leg gave out, Dan knew it was time. The bone had broken. Cancer had made that obvious.
Death is terrible whenever it comes, but so many things could have been worse. Dan was going to take Sonny to Cathy's so he could drive me to Lakeport for my appointment without him. The leg could have broken when we were on our way. It could have been in the middle of the night. Instead, all of us were there. Cathy drove. Dan sat in back with Sonny. And Dr. Sally was on duty, so the vet Sonny knew was able to administer the shot.
Cathy found a place to park in the shade. Dr. Sally came out where Dan was sitting with Sonny in the back, and all of us petted him and soothed him while he went peacefully to sleep.
It comforts me to think of Sonny running at top speed on the green grass of Heaven. I love knowing he has gone where there's no more pain.
Some people may think it's silly to grieve this loss. After all, it's just a dog. But those of us who have or have had dogs know there's no such thing as "just a dog." As Dan says, all life is precious. And when you share your life together, day in and day out, there is a definite vacancy when that life is gone.
As Cathy said, Sonny's first three years were more than just three years in terms of wear and tear and stress and strain. It was a life of tracks and crates without nurture or love. But the final eight years were a gift to him—a place for home and someone to whom he belonged. He changed from a frozen dog enduring life to one with a distinct personality, and monumental gas to match. Our neighbors, John and Moe, always told him how handsome he was, and called him the mayor of Greenwood Drive. I never tired of watching his athlete-walk, like a race horse that looked powerful and swift even when moving slowly for our afternoon walk. A beautiful boy, for sure.
those of us who knew him, who looked into his large, brown eyes; smelled his sardine breath; noticed his laughing mouth, will think of him when we see deer, other greyhounds, or look into a dog gaze that is steady, gentle, and wonderfullly sweet. Beings like Sonny leave their imprint on our hearts. They remind us to be grateful for every moment we have with those we love. It's part of their legacy.