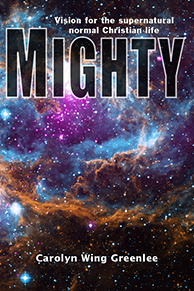 Dear Ones,
I met Cynthia Leal Massey at a Women Writing the West conference about twenty years ago. Recently she posted a review on Amazon for my new book, Mighty, and it is so insightful I asked if I could use it, and she graciously gave me her permission. Writing about my own books isn't something I do well, but even if I could, I couldn't have done it better than she.
Here is Cindy's review:
"What does it mean to live a "supernatural normal Christian" life? For those who walk with the Lord daily, the terms supernatural and normal may seem redundant, but unfortunately, too many Christians have lost their fervor and are traveling through life not accessing the powerful tools God has given us to live the supernatural life He so desires. Carolyn Wing Greenlee, who has been a believer for more than forty years, provides anecdotes and stories about her own life and about people she knows personally and others whose stories demonstrate the supernatural vision God has for us in her inspiring and powerful book, Mighty: vision for the supernatural normal Christian life.
"As Carolyn writes, 'I am sharing what I've learned in forty-four years of walking with Jesus. I've had wonderful mentors who have experienced the divine supernatural in their lives and taught me how to recognize it on my own. Their stories are also in this book.'
"The message Carolyn imparts isn't about her, it's about the love our Savior and Lord Jesus Christ has for us and the powerful weapons He has given us to live a supernatural normal life.
"Carolyn came to Christianity after growing up in a home steeped in the philosophy of Confucianism. She also dabbled in Hinduism, Buddhism, Taoism and even the occult. Her conversion to Jesus first took her to what she calls a 'legalistic' church, which almost derailed her. But God, ever faithful, took her out and brought her to Christians who lived authentically in the love of God through his Word. She never looked back.
"Mighty is the culmination of years of experience and covers, among many other concepts, God's love, the power of prayer, suffering, miracles, trials, timing, and the Bible. 'Almighty God wants to be involved with everyone personally,' she writes. 'And when He is invited to do so, things happen that bring light into darkness, order into chaos, meaning and healing into suffering, and mighty power into prayers that can even raise the dead. I send this book out to have a life of its own, with the hope it will bring strength, vision, and the breath of God into the innermost being of every person who reads it.'
"Mighty is a MIGHTY book about a MIGHTY God, written by one of God's MIGHTY warriors, a testament to God's grace and love."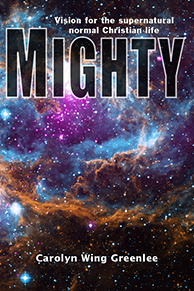 Mighty is available on Amazon in paperback and kindle.
If you don't do Amazon, email Dan (dan@earthen.com) and he will have one drop-shipped to you and send you an invoice.